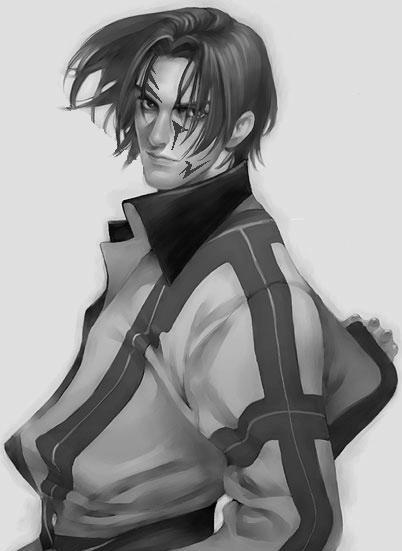 Seth
Name: Seth Lai
Age: 18
Gender: Male
Height: 5'11"
Weight: 150 lbs.
Hair: Black
Eyes: White
Birthplace: Las Vegas, Nevada
Ethnic: Japanese/Caucasian
Distinguishing features: Several tattoos along his body and face.
Known Relations: None
Special Skills: Bilingual(Japanese and English); trained martial artist; and practiced musician.
Powers: Absorption of sound granting enhanced hearing, voice/sound mimicry, and sonic wave blasts. He can absorb all sound within a foot of himself, making him quite stealthy.
History: Born in 2081, to a wealthy Japanese father and an American violinist, Seth was raised as a fighter by his father, and a musician by his mother. He traveled the world in the Armageddon Choir, along side his mother. He became aware of his mutancy and began to use it to secretly mimic entire sytho-orchestral pieces using only his body to generate the sounds. While on tour in Japan at age 14, his mother and father were killed by unknown persons for unknown reasons.
Seth returned home to Nevada, but was ousted for being a mutant. His money was bequeathed to his family lawyer, Aaron Parsmore, and was soon hunted down by his goons. He escaped to The Nuevo Sol Arcology and became a syntho-musician. There he met Xi'an who taught him to use his powers. When Xi'an formed the X-Men of 2099, Seth declined the offer to join. He stayed in the Nuevo Sol Compound for a short time after that, but left the compound in search of his parents' killers on his eighteenth birthday.
Seth was met by S.H.I.E.L.D. enforcers and taken before President Doom. Seth accepted the offer of becoming part of the Ministry of Corporate Affairs, the Morlocks, in hopes that it could lead him to his parents' murderers.
Personality: A thinker at heart, Seth is often quiet and contemplative, but can really open up when he is around friendly people. He has trained to channel his anger, and doesn't often get mad.
<![if !supportEmptyParas]><![endif]>